February 13, 2020
Teacher prep review: Program Performance in Early Reading Instruction.  Each school year, over one million public school 4th graders fail to achieve proficiency in reading. Evidence strongly suggests this is unnecessary as a roadmap with the potential to reduce the rate of reading failure from 3% to 1% of children is available. 
The National Council of Teacher Quality (NCTQ) review examines teacher preparation program progress in adopting the necessary components of evidence-based reading instruction. The report continues the effort of two previous reports offering educators a look at trends on preparation program progress on providing this essential training. NCTQ assesses Teacher preparation programs on the instruction of the five components of effective reading instruction: phonemic awareness, phonics, fluency, vocabulary, and comprehension. The NCTQ assessed preparation programs on three criteria; teaching all five components, the inclusion of high-quality textbooks offering detailed information on all five factors, and requiring teacher candidates to demonstrate mastery of the five skill sets.
The findings reveal that preparation programs are making persistent progress delivering instruction for all five reading components. The report concludes the field of teacher preparation is at a critical juncture in reading training as the data suggests a continued momentum in favor of science-based reading instruction. This year's report finds undergraduate programs consistently improved scientifically-based reading instruction since NCTQ first began these studies. This report finds 57 percent now earning an A or B. This growth represents a 10-point improvement when compared to 2016 and an 18-point increase over the 2013 Teacher Prep Review.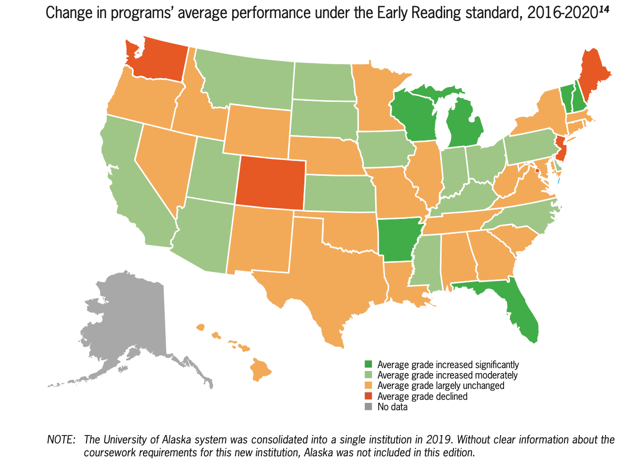 Although this progress is to lauded, it is important to note only half of the programs provide instruction in phonemic awareness, the first step in mastering reading. The study also finds teachers are not any more likely to learn the importance of fluency, with only 53 percent of programs providing adequate coverage of this component.
Citation: Drake, G., et al. (2020). Teacher Prep Review: Program Performance in Early Reading Instruction. National Council on Teacher Quality.https://www.nctq.org/dmsView/NCTQ_2020_Teacher_Prep_Review_Program_Performance_in_Early_Reading_Instruction
Link: https://www.nctq.org/dmsView/NCTQ_2020_Teacher_Prep_Review_Program_Performance_in_Early_Reading_Instruction
---