State Standards vs. National Standards
Would a student rated 'Proficient' in Reading in one state be rated 'Proficient' in Reading in another state?
Why is this question important? With states having different definitions of 'proficient' in a skill, it is difficult for families, educators, or policy-makers to compare programs to determine what works best for educating children. It is also difficult to reward organizations doing well and help organizations needing improvement.
See further discussion below.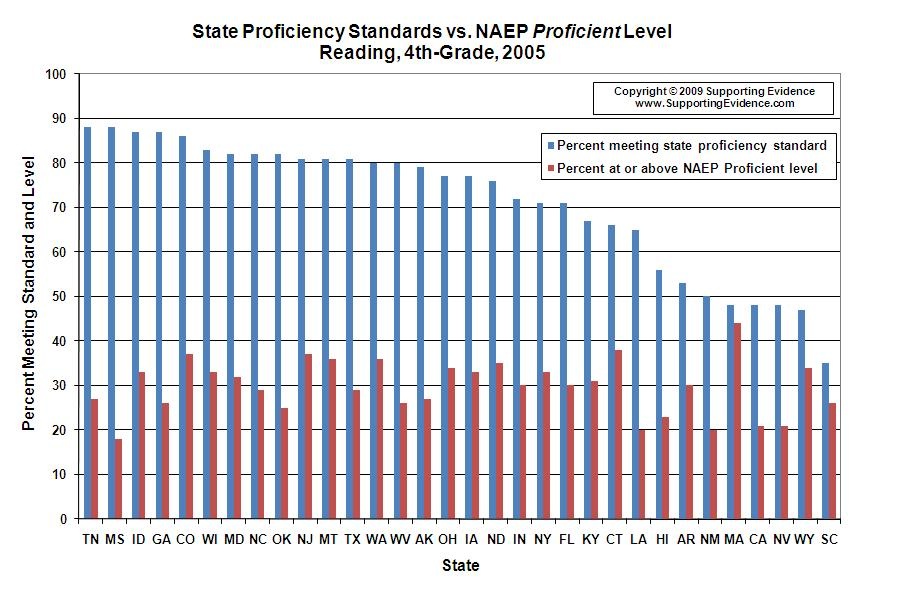 Source: National Assessment of Educational Progress Research e-Center
http://nces.ed.gov/nationsreportcard/researchcenter/statemapping_t1.asp

Results: States have dramatically different definitions of reading proficiency. Using the common National Assessment of Educational Progress (NAEP) definition of 'proficient' in reading, for example, 88% of students in Mississippi are listed as meeting the state proficiency standard, while only 18% of Mississippi students achieve the 'Proficient' level as measured by the NAEP standard. An alternate example shows that 44% of Massachusetts students meet its state proficiency standard, but 47% of them are 'Proficient' by the NAEP standard. There is a strong negative correlation between the proportions of students meeting the states' proficiency standards and the NAEP score equivalents to those standards, suggesting that the observed heterogeneity in states' reported percents proficient can be largely attributed to differences in the stringency of their standards. Most of the NAEP score equivalents fall below the cut-point corresponding to the NAEP Proficient' standard, and many fall below the cut-point corresponding to the NAEP 'Basic' standard.

Implications: States have different standards for reading achievement, which can confound attempts to evaluate effectiveness of educational systems. The 'No Child Left Behind' Act of 2001 allows states to define their own proficiency standards when reporting 'Adequate Yearly Progress' (AYP). AYP results effect potential sanctions imposed on schools.

Authors: National Center for Education Statistics, Institute of Education Sciences, U.S. Department of Education

Publisher: National Center for Education Statistics, Institute of Education Sciences, U.S. Department of Education

Study Description: The National Center for Education Statistics (NCES) studied state proficiency standards as compared to NAEP proficiency standards. Large differences were found between state standards. These differences could be due to both content standards and student academic achievement from state to state, as well as from differences in the stringency of the standards adopted by the states.
http://nces.ed.gov/nationsreportcard/pdf/studies/2007482.pdf

Definitions:
NCES = National Center for Education Statistics
NAEP = National Assessment of Educational Progress
NCLB = No Child Left Behind Act
AYP = Adequate Yearly Progress